"The Whatsapp application has closed abnormally": this message arrived today. You were there to text a dear friend of yours that you may not have heard for a long time and on the most beautiful Whatsapp is blocked. He doesn't want to know anything about reviving.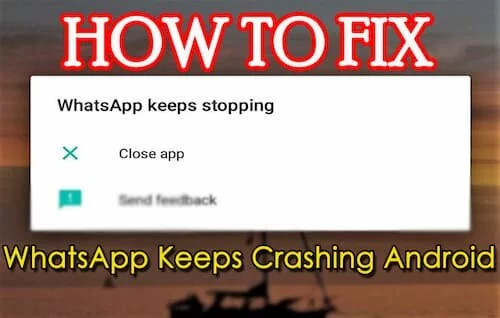 How to Fix WhatsApp Crashing?
This is a common error message that unfortunately could happen to anyone sooner or later. Among the most common solutions:
Reboot the device
Clearing the Whatsapp cache
Uninstalling Whatsapp
Clear cache of the Play Store
Reset The Device
Here's how to do it, step by step.
Reboot the device
Sometimes the problem is just trivial. Just turn your smartphone off and on again and Whatsapp restarts immediately. So try to turn it off for a couple of minutes and then turn it back on, Whatsapp may work again.
Clear the Whatsapp cache
The cache is the temporary memory of your Android device and when it is too "clogged" it could create problems for a specific application. So, to remove all the data, to clean it, do this:
Go to Settings> Applications> All, then choose Whatsapp and select it;
Finally, go to Memory and then Clear Cache.
Uninstall and reinstall the app
If the problem persists, then it could be an application hang. In these cases, the best thing to do is to uninstall the application and then re-download it from the Play Store.
So, go to the Play Store, search for Whatsapp and as soon as you find it, click on Uninstall. Wait for the uninstall process to complete. Wait a few minutes and proceed to reinstall it, again via the Play Store, this time by clicking on Install.
Clear the Play Store cache
If the problem persists, then it may reside in the Play Store cache. To delete it, empty it, do this:
Go to Settings> Applications;
So go to Google Play Store> Memory> Clear Cache.
Device reset
Reset The Device
Still problems? The last attempt then is this: the reset of the device. I advise you to wait at least a day because the problem could be from Whatsapp, but if it does not solve it, then you should try to reset your phone. But remember to make a backup first, otherwise, you will lose all your data.